Building an email list of subscribers who want to hear from your business is the key to successful email marketing. Furthermore, email marketing is one of the most cost-effective tools for small business marketing. Here are best practices for creating your email list plus tactics to avoid.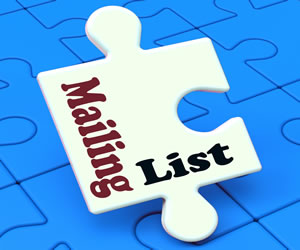 If you haven't invested in email marketing, now might be a good time to start. In fact, 77 percent of businesses have seen email engagement skyrocket in the last year. While this marketing tool is undoubtedly valuable, your return on investment will depend in large part on the size of your email list and the quality of your subscribers. That means building a strong list is of vital importance. Keep reading to learn more about email marketing lists and discover tips on building an effective one for your business. 
Understanding Email Lists
In the most basic terms, an email list is a list of electronic mailing addresses to which you have permission to send email marketing campaigns. Individuals can provide their emails in multiple ways, including subscribing online, making a purchase from your online store, or even giving you a business card at an in-person networking event and requesting to be on your list. Email marketing lists are also known as subscriber lists or simply mailing lists.
Why Building Email Lists Matters
If you don't currently have an email list, you may be missing out on an invaluable opportunity to grow your business. Email marketing enables you to stay in contact with current and prospective customers and keep them informed about your products and services. According to a recent report, this tool has a return on investment of $36 for every $1 you spend, which is higher than most other types of marketing.
With an email list you will be able to send emails about holiday promotions, general merchandise sales, services you provide and encourage subscribers to visit your online sales page, your bricks and mortar location or contact you by phone. There are many other email topics that may interest the subscribers on your mailing list as well.
Email marketing is undoubtedly effective. However, businesses need to take steps to create robust and up-to-date lists with subscribers. It's not uncommon for customers to switch email addresses when they graduate or take a new job. For this reason, companies should check back through lists regularly and remove any invalid addresses. Additionally, marketers should strive to grow their lists, constantly adding interested subscribers.
Ways to Build Your Email List
It's no secret that people get a lot of email these days. If you want to encourage customers to invite you into their inbox, it's important to make the subscription process an easy one. Here are some tips for building an email list and keeping your subscribers happy and engaged.
1 –Make it Easy to Subscribe
The easier you make it for people to subscribe to your email list, the more subscribers you'll get. Your opt-in email signup form should have as few fields as possible. Most people don't want to fill out long detailed forms to sign up for an email list but will provide their email address and perhaps their name. However, they may be reluctant to provide a complete address or phone number. Thus, when you set up your subscription form, keep the required fields to a bare minimum. The exception: when you want to use the email signup form to qualify subscribers based on criteria such as location, company size or some other information important to your sales team.
2 –Leverage Your Website to Build Your Email List
Your website is often the first introduction people have to your business and an effective tool for building your subscriber list. The goal is to ensure your site pages contain plenty of high-quality, updated content to draw in visitors and inspire them to learn more. Be sure that every page on your website has a link, button, or inline subscription form to sign up for your email list. A common location for a subscribe link is in the navigation for the website. But that shouldn't be the only place you have signup reminders on a page. Include a prominent link or button on blog and other content pages. If you are selling a product or service, include an email signup checkoff box on the page where people completing their purchase.
3- Use a Slide-In or Pop Up to Get Email Sign-Ups
Slide-ins or popup-type subscription boxes work well, too, on content pages if they don't completely obscure the content. While you may find such boxes annoying, they are worth testing. Many sites find they increase the number of subscriptions significantly. There are various tools available for inserting these popups. Most let you set the slide-ins software to appear when and where you want on the page, or when people close the page. Strategically placed pop-ups can present users with compelling reasons to subscribe while they're already engaged in consuming content.
4 – Use Signup Link in all Emails You Send
Web-based businesses often utilize email to attract new subscribers. For example, if you send an email to a customer who purchased a product or inquired about one, include a link that invites them to sign up for your newsletter. You can also place these links in emails that confirm that a product has shipped or to thank a customer for using your services. Some companies even have employees include subscription links as part of their email signature.
5 – Add a Contact Form
Many businesses invite their customers to book an appointment or get more information by filling out a contact form. If you use a form like this and the form software or plugin integrates with your email marketing service, consider including a tick box for subscriptions. That way, current and potential customers can easily provide their email addresses when they're submitting other information like names and phone numbers.  
6 – Use Social Media to Grow Your Email List
You probably know that social media is a great medium for connecting with new and current customers. However, you might not realize that Facebook and Twitter are also useful tools for building your email list. Once you've engaged with potential subscribers on your social sites, invite them to sign up for your mailing list. The goal is to include subscription links along with other content that customers will find valuable, interesting, or enticing. For example, a pest control company might make a Facebook post with advice on rodent proofing. They could include a link inviting followers to register for the newsletter to receive more tips. Similarly, marketers may opt to send out a tweet asking followers to subscribe for more great content. 
Another tactic for using social media to grow your email list is to point to blog posts with embedded signup forms. Post a teaser describing the blog post on your social media feed. When people click through they'll read the blog post and see an email list signup form as they are reading.
You can employ social media accounts as a means to offer prizes and incentives for those who provide you with their contact information. Partnering up with influencers or complementary businesses helps boost engagement by giving followers something extra special when they enter your contest or join your mailing list. Your boutique could team up with the local luncheonette, for instance. You could offer a discount on a purchase plus a free coffee at the luncheonette for anyone who subscribes to your email list.
7 – Offer Incentives and Perks for Signups
Customers may be hesitant to sign up to receive one more email. One way to convince prospective subscribers to give you their email address is to offer an incentive for joining. As a marketer, you can offer an array of perks, including discounts or free shipping. Gated content (that is, content that is only available when someone signs up for your list) is another option. Typical types of gated free content perks include ebooks, white papers, case studies, and insider information. The goal is to choose a perk that makes sense for your particular business and that will appeal to your audience. Among the possibilities are immediate-use coupons, how-to checklists, videos and webinars.
8 – Exhibit at a Tradeshow
Digital marketing may be all the rage these days, but some business is still done in person. If you're struggling to grow your email list, think about exhibiting at some local trade shows or, if practical, industry conferences. These events are effective because they allow you to meet clients face to face, answering their questions and building trust. Once you've forged a personal connection with a customer, you can invite them to sign up for your mailing list or offer them a perk in exchange for providing their email address. For example, businesses sometimes opt to give out useful swag like a water bottle or canvas tote bag or offer a discount coupon that a customer can use at a later date.
9 – Promote your Email List on Your Business Card
Chances are you don't have much room on the front of your business card to promote your email list, but you can use the back of the card to get signups. Have the back imprinted with a call to action to sign up for your list followed by the URL to signup and, if available a QR code to scan to reach a signup form.
10 – Use Newsletter Signup Links on Printed Materials
Include an invitation to sign up for your email list in all of your printed marketing materials. This could go right above or below your contact information.  If you don't want to wait until you reprint your marketing materials, add a sticker or small insert with the signup information to your existing printed matter.
11 – Grow Your Mailing List with Partnerships and Events
Partnerships & events are also great ways of growing your subscriber list; cross-promotions through guest blogging or co-hosted webinars featuring industry experts help spread awareness of your brand while giving subscribers something new and exciting that they won't find anywhere else online.
Offer to give a workshop or presentation at local business organizations, a nearby Small Business Development Center or SCORE chapter. Make the topic something their audience will want to learn. The last slide in your presentation (and possibly, the first slide, as well) can include a link to sign up for your email list.
Invite other people to be guests on for a webinar or Zoom video contest you host. When your guest promotes their upcoming appearance to their list, they'll be spreading the word about your site. And, during the webinar or podcast, you can invite newcomers to sign up for future mailings from you. These strategies will help increase engagement from people who may not have heard of your business before and give them an incentive to sign up for your emails.
12 – Use Chatbots to Encourage Email Signups
Chatbot technology can be used to automate messaging between your website and its visitors, allowing you to quickly capture contact information without requiring any manual effort. Customized chatbot interactions based on user behavior can be created to increase engagement and encourage signups. By tracking visitor activity, you can craft personalized messages that will better resonate with potential subscribers while also providing them with relevant offers or incentives.
Email List Building Mistakes
Of course, not all companies behave in an ethical way when it comes to email marketing. Black hat email marketing tactics can result in short-term gains that backfire in the long run when customers decide to take their business (and their money) elsewhere. If you want to stay in your customers' good graces, avoid these tactics when building an email list:
Adding People to Lists Without Permission
We've all received marketing emails that we didn't ask for. Unfortunately, many companies add subscribers to their lists automatically. Some businesses add every customer who makes a purchase while others opt to email subscribers who only filled out a contact form requesting more information. In many cases, this tactic winds up annoying prospective customers and disincentivizing them from buying from you in the future. If you want to reach out to a customer, email them just one time and ask if they'd be interested in joining your subscription list.
Adding Subscribers to Multiple Lists
Just because someone signs up to receive emails from you doesn't mean they're interested in everything you have to say. For example, if you run a home remodeling business, a customer who signs up to receive content about kitchen renovations may not want to hear about window installation. For best results, avoid signing subscribers up for any additional lists without their permission. You should also check your unsubscribe links to make sure customers can easily opt out of receiving emails they don't want. After all, unhappy customers are unlikely to use your services again at a later date.
Buying Email Lists
If you don't have a mailing list, buying an email might sound like a good idea, but you'll be wasting your money and are likely to get labeled a spammer for sending unsolicited email. The names on the list will be untargeted and unfamiliar with your business and unresponsive. Worse, when too many mark your email as spam, you can lose your email account and cause your own email address to be blocked by some ISP. Furthermore, sending unsolicited mail is a violation of the Can Spam law.
When it comes to building an email list, it's important to take the high road. Reach out to customers through your website, blog, and social media pages and consider finding them in person at trade shows and industry events. The goal is to build a robust list full of engaged subscribers who are truly interested in what you have to say.
Related reading: How to Improve Your Email Open Rate