by Janet Attard
Email marketing is a term most businesses are familiar with, but many don't fully understand its importance to their business. Here's an explanation of what email marketing is, what it isn't, and how it can benefit your business.
This page contains affiliate links from which we may make a commission if you make a purchase through the link.  Learn more.
Email Marketing Definition
Email marketing is a form of direct marketing that marketers use to communicate with customers and prospects who have subscribed to their email list. Businesses use marketing emails to promote products and services, to provide useful tips and hints and to foster client relationships.
Emailing customers directly and regularly can help build familiarity with the business and increase website visits and sales.
Email marketing is similar to direct mail marketing in some ways, but instead of sending printed marketing messages via the Post Office, marketers use email to send marketing communications electronically, saving time as well as saving a significant amount on printing and postage costs.
Although there is a cost associated with using an email marketing service to send the emails, that cost is usually significantly lower than using the postal service to reach the same number of contacts.
What is Spam?
When used in relation to marketing, the term, spam refers to unsolicited and/or misleading promotional material that is sent in email, via text message or phone calls. In other words, spam email is email the individual did not sign up to receive. Sending unsolicited email is one of the biggest email marketing mistakes you can make.
To comply with anti-spam laws and email marketing best practices, email marketing messages should only be sent to customers and prospects who have chosen (opted in) to be on a company's mailing list.
Why is Email Marketing Important?
Email marketing is important because it's an economical way to build brand recognition and sales. You can employ email campaigns to publicize your offerings, provide discounts or exclusive deals, report on your business progress and even ask for client comments.
By categorizing customers by their interests or characteristics, it is possible to create content that appeals more specifically to each segment. Finally, tracking analytics on open rates and click-throughs will help you measure the success of different strategies so that you can refine future emails accordingly.
The use of email by businesses and consumers continues to grow. In 2020 there were about 4 billion email users worldwide, and that number is expected to grow to 4.5 billion by 2024. Those accounts are being used frequently, too. According to OptinMonster, 99% of email account holders check their mail every day, and some check it as much as 20 times a day. Furthermore, consumers prefer email for communications with brands they know.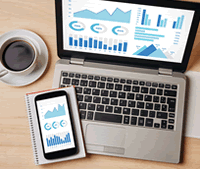 Those figures make email marketing an easy and inexpensive way to remarket to customers and prospects who opt in (subscribe) to the business' mailing list. Mailing to those opt ins can turn one-time visitors and casual social media viewers into customers. Better yet, email marketing campaigns can be tracked and measured so you can determine your ROI, can repeat the types of mailings that are successes and discontinue or change the mailings that don't do as well.
What Do Businesses Send in Email?
Businesses send a variety of materials via email. What they send and when they send it depends on a company's overall goals and the goals for a specific marketing campaign. Among the types of emails businesses send are coupons, notices of sales, educational materials, descriptions of and links to informative articles on their website, invitations to online or in person events, holiday greetings and sale notices, reminders to repurchase products and promotional material introducing new products.
Related:
10 Types of Emails to Send Customers
Email Topics to Add Variety to Your Campaigns
All of these and other email marketing materials a company sends to people on their mailing list helps establish familiarity and trust, keeps their business name in front of customers and prospects, and leads directly or indirectly to sales. For companies that depend on leads to bring in business, email marketing plays an important role in developing those leads and converting them to sales.
How Small Businesses Save Time Using Email
Email marketing has several time-saving elements for small businesses.
The first is the speed at which email marketing campaigns are delivered. You schedule the day and time you want the email campaign to be delivered and the campaign will be delivered almost immediately, showing up to recipients as soon as they open their inbox. When you send emails to customers, you don't have to allow time for postal delivery, or worry that postal delays will cause your promotional material to arrive after the promotion is over.
That leads to the second time benefit: You may start getting sales and inquiries coming in the same day the mailing goes out. On an ecommerce site I used to run, we'd usually start to get orders in our online shopping cart and phone calls from customers calling to place orders an hour or less after the mailings dropped. Factors that determine how quickly you get results include the size of your mailing list, what's being offered, how well targeted your list is, and other factors such as the subject line of the mailing and time of day the mailing is sent.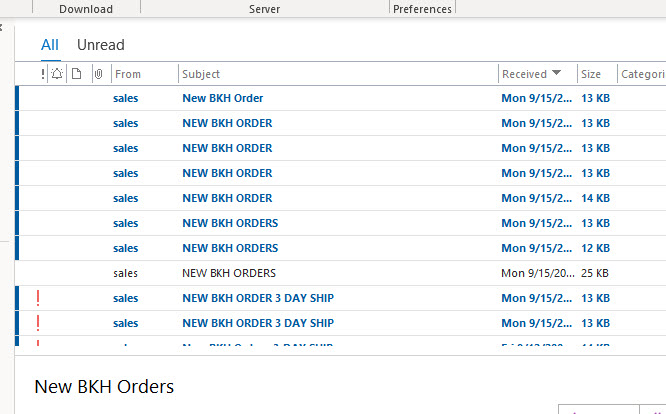 Two other time-related benefits: Email marketing services allow you to create and schedule mailings in advance, so you or your staff can set them up in advance of your busy times. Email services also include email automation features that immediately acknowledge new subscribers by sending them a welcome letter that you've created. Most email services also have features that let you set up automated series of emails for conducting drip marketing campaigns, if you choose to do so.
Email Marketing Benefits
Email marketing offers many benefits for any business using it. Here are some of the most important:
1.   Email marketing helps you reach your target audience.
The basic email marketing function is that it lets you send targeted messages to subscribers who want to hear from you because they are already interested in the products or services you provide. Those interested parties will be more likely to read and consider taking the action you suggest in the emails you send to them.
Depending on what you sell, segmenting your email list and sending marketing materials based on customer preferences, location, past purchases, or other criteria can improve engagement and sales.
2.   It is cost-effective and time-efficient
Email marketing is as cost-effective as it is easy to use. In addition to saving the cost of postage, you save on design and printing costs. With the help of templates provided by email marketing services like Constant Contact, small businesses can quickly create and send attractive, professionally designed marketing materials to their lists. The mailings don't have to be designed, printed up, inserted into envelopes, metered, or manually stamped. Once you enter the information and preferences in the template, the mailing can go out immediately or be scheduled to go out automatically at some future time.  The mailings go out on the specific date and time you select.
3.   High Return on Investment
Depending on whose statistics you look at, email marketing has an ROI of between $36 and $44 for every dollar spent. In fact, Constant Contact reports that 60 percent of consumers say they've made a purchase as the result of a marketing email they received.   
4.   Better Relationship with clients
Email marketing makes it easy to stay in touch with the clients. Consistent outreach to subscribers with relevant and useful content makes you familiar and trusted. When a business is providing value via emails, the customers actually look forward to those emails. By doing this, you will be fostering better relationships with the clients.
In the long term, this plays a pivotal role in building a loyal fan base for your small business. A loyal customer base can help you as an advocate for your business and get you more customers. 
5.   Increasing Subscribers Leads to Increased Clients and Sales
It's simple math. Email marketing is hands down one of the best ways to increase sales for small businesses with the least amount of effort.

Say you have a mailing list with 500 opt-in subscribers. You send a mailing and 10 percent of those subscribers (50 people) click on a promotional link in your mailing and go to your website to look at the product or service you are promoting. If 6 percent of those 50 people convert to sales, you'll have 3 sales. If your mailing list grows to 1000 and the click through rate and conversion rate stays the same, you would get 6 sales as a result of the mailing.
While actual response rates vary depending on the promotion and other factors, the more opt-in subscribers you have, the more individuals there will be who are likely to respond to your offer. Furthermore, if you can increase your email open rate, clickthrough rate and conversion rate, you'd get even better results.
6. Achieve Increased Visibility Compared to Social Media
Although social media services are popular and important for small businesses, social media algorithms effect which of your followers see your organic (unpaid) posts. Recent estimates indicate that on the average, a post from a business reaches (shows up in the feed of) only about 2.2% of the brand's followers. By contrast, email deliverability rates (i.e., the percent that reach the recipient) are as high as 95%.
How to Get Started with Email Marketing
Email marketing can nurture leads, build customer loyalty and sales, bring traffic to your website, and do much more for your business, if used wisely. Here are some of the most important tips for getting started with email marketing and for using it successfully in your own business:
Choose an email service provider. Always use an email service provider to send email marketing campaigns. The email service provider saves you time, makes your mailings look more professional and can improve deliverability of your marketing campaigns.

Build an opt-in mailing list for your site. An opt-in mailing list is a list of email addresses of individuals who have given permission to be on your email list.  When people opt-in to your mailings, it means they want to hear from you.  Never buy email addresses to add to your list or add email addresses to your list without getting permission from the owner of the email account. Doing so can cause your mailings to be marked as spam, and if enough are marked as spam, you could lose your email service account.
Use signup forms or buttons on every page of your website and include signup links and buttons in your social media to collect as many emails of the users as possible. Be sure people know what they are signing up for. Consider offering some free content or checklist to encourage people to sign up for your mailings. Use every opportunity you can to refer people to your signup link or form.
Create an email marketing calendar to plan and schedule your email campaigns.
Write high-quality, exclusive content to interest customers and get them to look forward to your mailings.
Use pre-designed, colorful templates to make your mailings look professional
Choose responsive templates that are optimized for mobile devices, laptops, or any other gadgets. (Optimized for mobile devices means that the email can be read without causing the reader to scroll from side to side.)
Send yourself a test mailing before you send a mailing to your list to be sure you have formatted it correctly and there are no glaring mistakes.
Do audience analysis to know your customer better and develop your email design and content
Powerful Marketing Tool
Email marketing is one of the best marketing tools available to small business. Building your email list on an ongoing basis and sending marketing emails on a regular schedule to that list will help your business grow and flourish.
Want more tips and hints for successful email marketing? Click the button to get our free newsletter: